'Bees make honey, and this is an amazing thing - we never think about it but it's an amazing thing! Do spiders make gravy? Do earwigs make chutney?'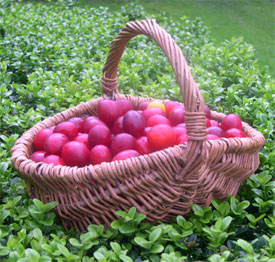 from the Cottage Smallholder website
I have paraphrased, but this is Eddie Izzard's wonderful stance on chutney, which I have decided to make myself. I am not an expert earwig, so I have turned for my chutney recipe to a wonderful blog called the
Cottage Smallholder
. Their recipe for plum chutney can be found
here,
and I have a batch of it (minus the apricots, as I didn't have any) in the slow cooker at the moment. I am using half the amount of vinegar specified, as the slow cooker tends to conserve a lot of the liquid in any dish.
I ought here to mention two people who will have made this chutney possible. My wonderful boyfriend D (who also prompted the invention of a chutney rather than jam, as he loves cheese) bought me the slow cooker for a birthday present about two or three years ago, for cooking at university. It has served me well during that time, and I am delighted to discover on the internet that it may be possible to slow-boil such preserves in one rather than on the hob.
The second person is my friend V the Bearded Bat-Woman of the Night, who allowed me to plunder the extensive orchards of her Oxfordshire home for damsons, yellow plums, hard pears and cooking apples. I shall be trying to condense this plunder into multiple jars of multiple kinds of jam and chutney over the following days, for multiple purposes.